20 Latest and Different Types of Hijab Styles in 2020
Published on January 29, 2020
Hijab is traditional wear worn by Muslim women. Also known as headscarf or veil, it is a piece of cloth that covers the chest and the head portion. Available in different materials such as linen, cotton, jersey, chambray, etc., it is mixed with other materials like polyester, rayon, nylon etc. to be made available at an affordable rate.Though the hijab was simple and available in the only color - black, nowadays, you will find modern hijab styles available in the market that adds a charm to your attire.
Here are a few of the most loved types of hijab styles in 2020that have a place in your wardrobe.
Simple and Traditional Hijab
Many Muslim still wear these simple hijab styles that give a traditional vibe. The hijab is made using black cotton material that is simply left out plain with crochet borders.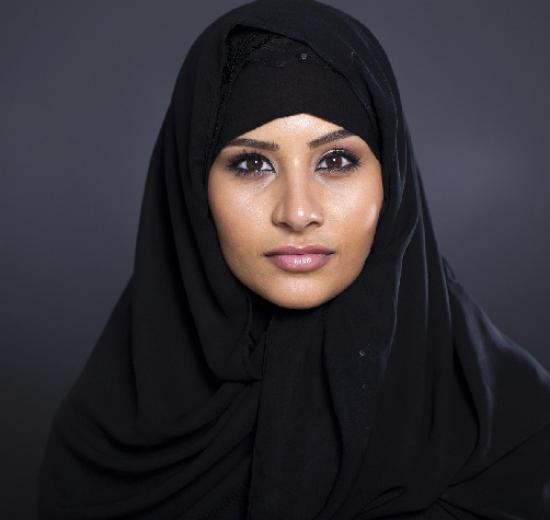 Pearl Lace Hijab
A widely opted hijab for many fashionistas, this Pearl lace hijab collection is appreciated by many for its ethereal look. Made from Chiffon fabric, this burgundy hijab is embedded with a pearl border for a whole new look. Some people also decorate the Hijab by adding more pearls fully instead of limiting to borders only.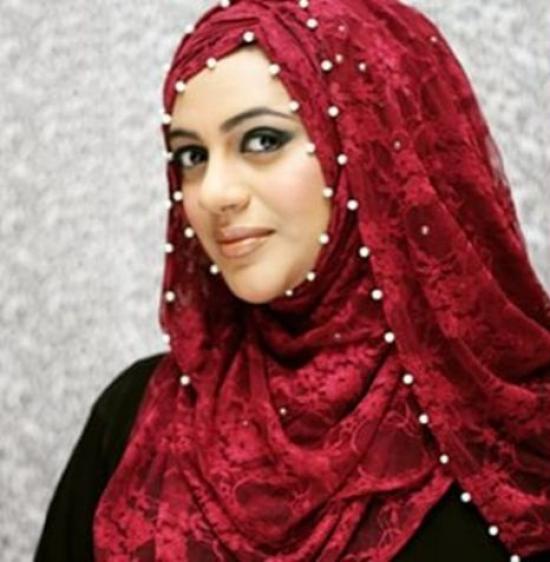 Hijab with Floral Charm
Check out this satin hijab style for 2020 that comes with a floral charm on the right side. This Grey Plain satin hijab features a silver floral charm with bluish-grey gems that enhances the look of the wearer. Suitable for any light occasions, this satin hijab style is a definite yes.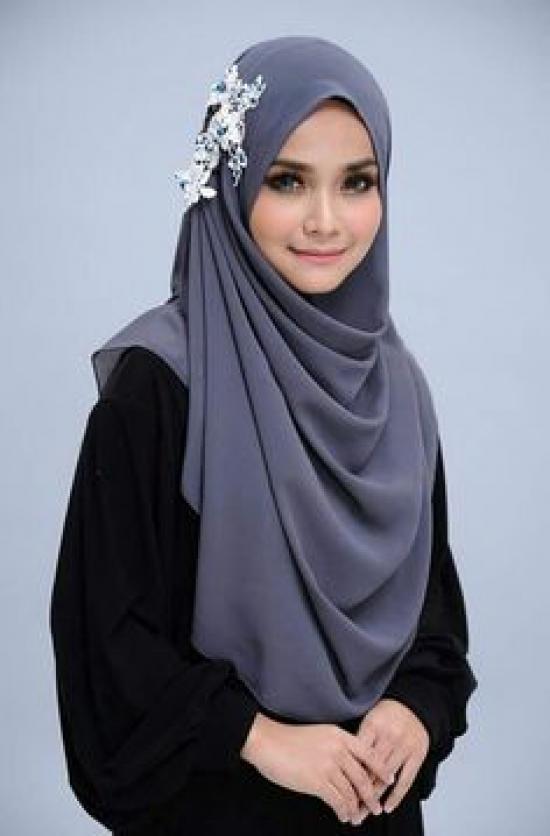 Pagdi Style Hijab
One of the popular hijab styles is the Pagdi style hijab that simply covers the head portion. Resembling the Pagdi of Sikhs, this style is worn in a folding manner by giving dual layers on the head top and bounded from behind.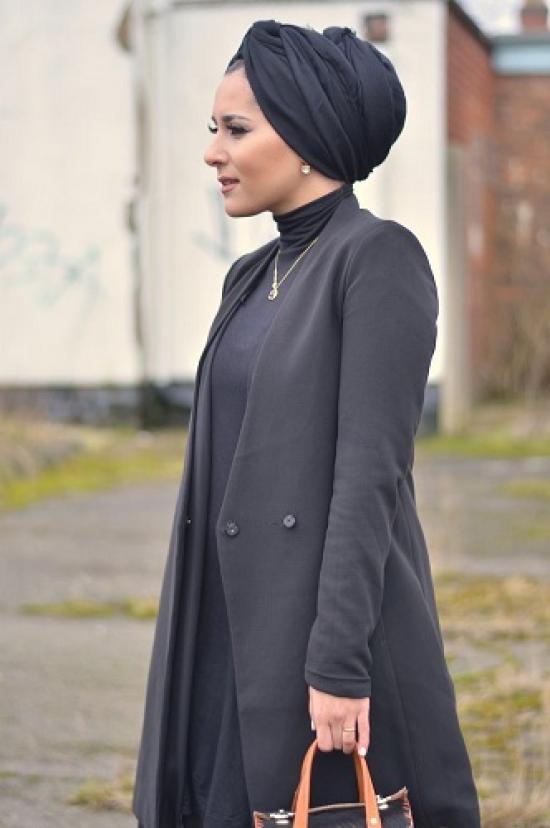 Layered Hijab
Give your face an enthralling look by adding this layered hijab to your attire. This layered style hijab is made from chiffon material that comes with prints or diamond work. Simple yet stylish to wear, this hijab features several layers on the head as well as the chest.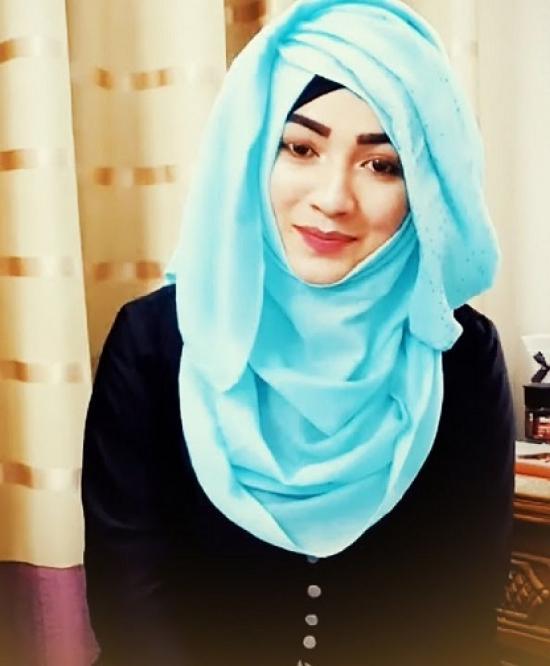 Arabic Style Hijab
One of the beautiful types of hijab styles in 2020, Arabic style hijabs covers the entire head and features triangular shape on the chest area. Made out of chiffon fabric, this hijab arrives in the printed form for casual wear.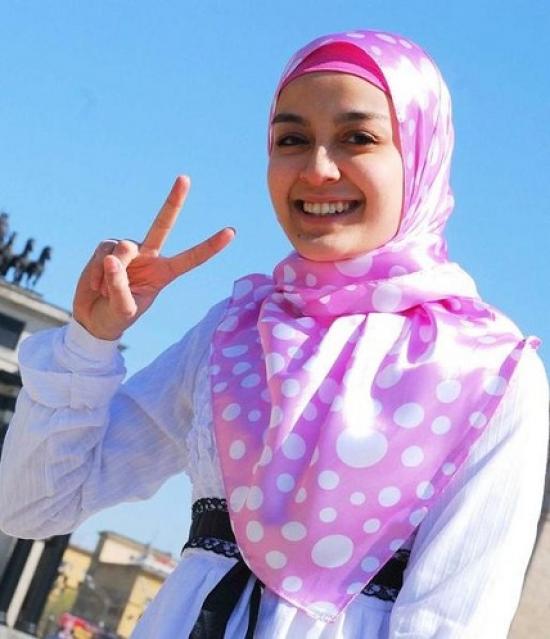 Pashmina Hijab
Simple hijab wear, Pashmina is a shawl-like material that covers the head completely while the other end of the material falls from the shoulder neck to the front that features gorgeous designs and charms.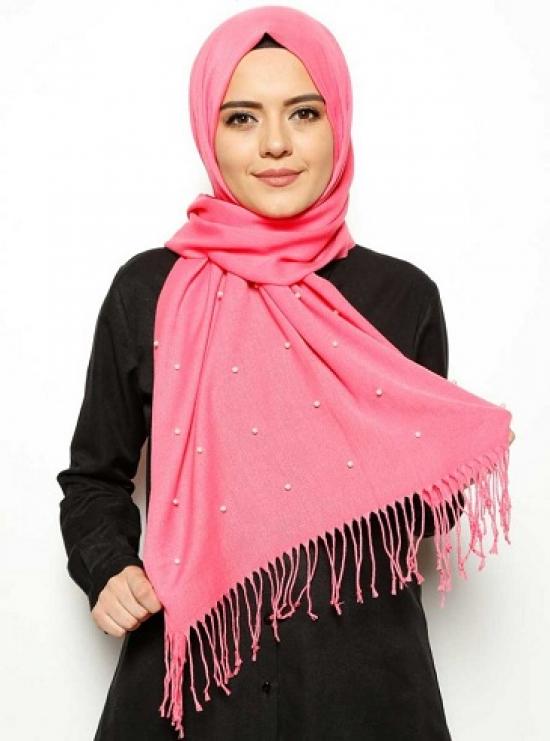 Printed and Folded Hijab
Get a new perspective to your Hijab dress styles by introducing this folding and twisting pattern to your dressing. This hijab is made using cotton silk material that features prints combined with hanging charms at the end of the material.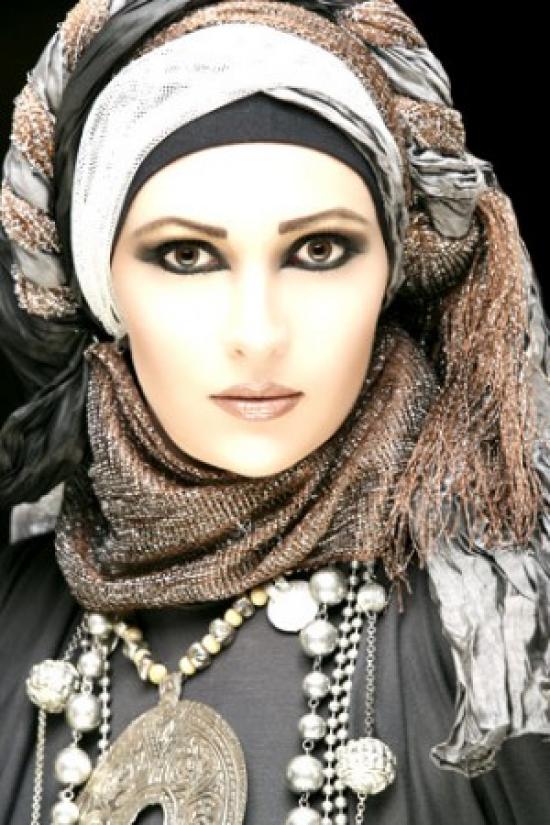 Hijab in Kashmiri Work
These Kashmiri woven patterns give your hijab a stunning look. This plain hijab is made using quality chiffon with embroidered floral designs made with colourful threads. A minimal aesthetic look, this hijab is great for small parties or any special occasions.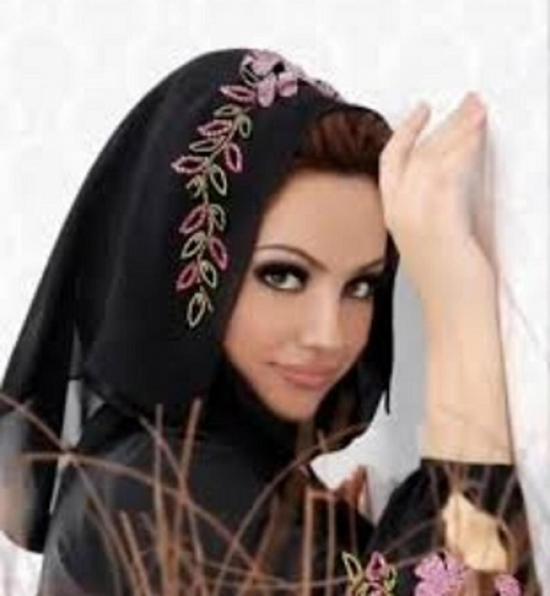 Bridal Hijab
Needless to say, bridal hijabs are absolutely attractive as they are designed to make the bride look even more beautiful. These latest hijab styles for the bridals are made using quality silk and comes with embellishments such as pearls, gorgeous gemstones, and intricate borders that give the bridal hijab an excellent look. The chestand the side part of the hijab are given plain texture(giving area for ornaments) while the top is decorated.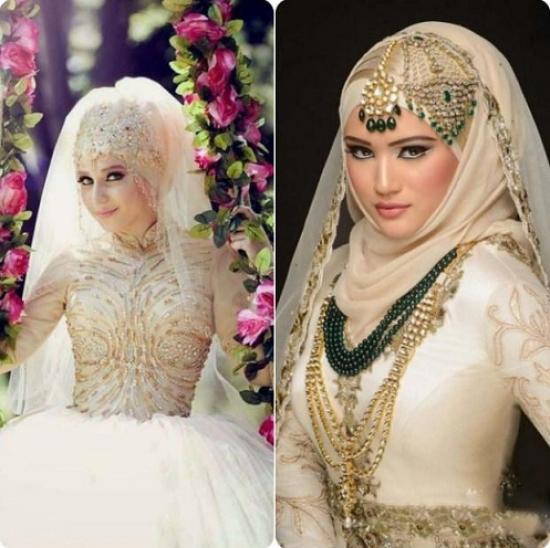 Woolen Hijab for Babies
These cute hijab styles are a definite yes for your child. This hijab is made using chiffon material with woolen strips on the top. To make it more adorable, you will find charms attached to it that feature curvy red borders. This cute little hijab for kids covers the head and the neck portion of your baby.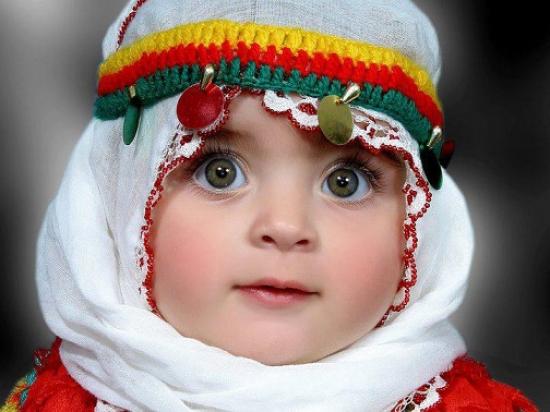 Turkish Hijab Style
These Turkish hijabs are a popular choice thanks to the different decorative styles they are available.These hijab styles give the wearer a diamond - shaped face different from others. This plain black hijab comes with diamond - encrusted border on the head area for a broad border style. This hijab is great for weddings, special functions, parties, etc.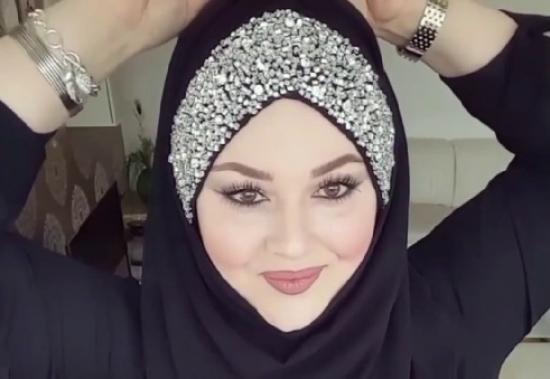 Hijab with Crochet Borders
Crochet borders are in top 2020 Hijab styles for parties. In this picture, you can see that this plain hijab is highlighted with a crochet border with floral designs. For further enhancement, pearls are also attached.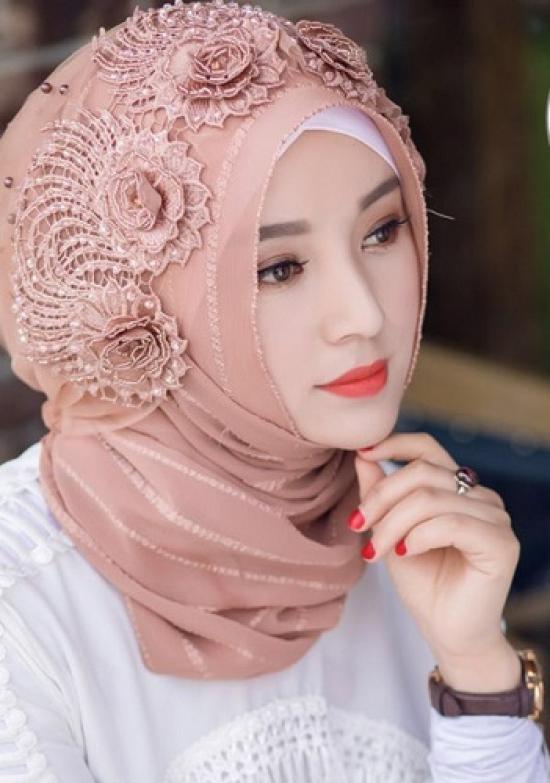 Crowning Hijab
This crown-like design on the top of the head can make even a simple hijab look amazing. An easy and classic hijab style, where you can wear a simple plain hijab and embed it with a designer crown-like ring on the top. Some portion will cover your forehead that gives it a crown-like look.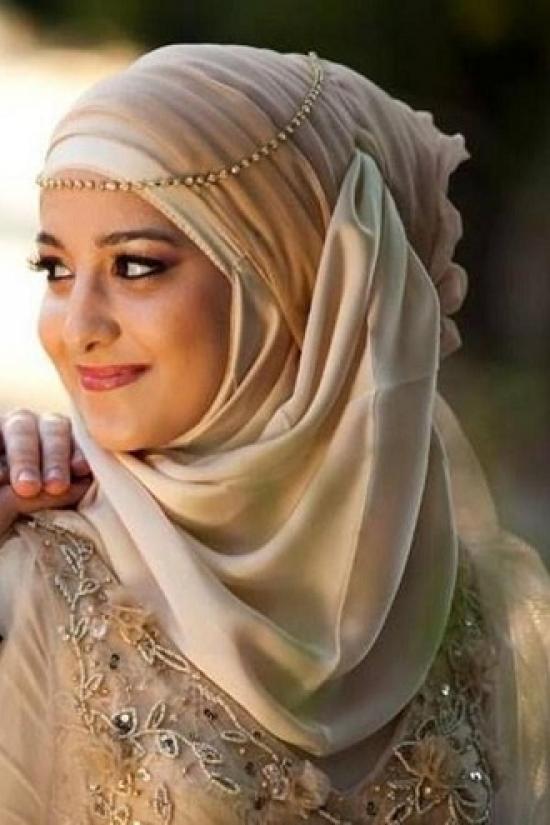 Dual Color Hijab
This combination colored hijab adds a dual color effect on you.In this hijab, you can see that a printed form in light color covers the head while a plain black color covers the neck. Made using cottonsilk fabric, the hijab is styled in a side rolling design on one side, with the other side styled in small plates. This dual color hijab is worn for office, outing purpose, meetings etc.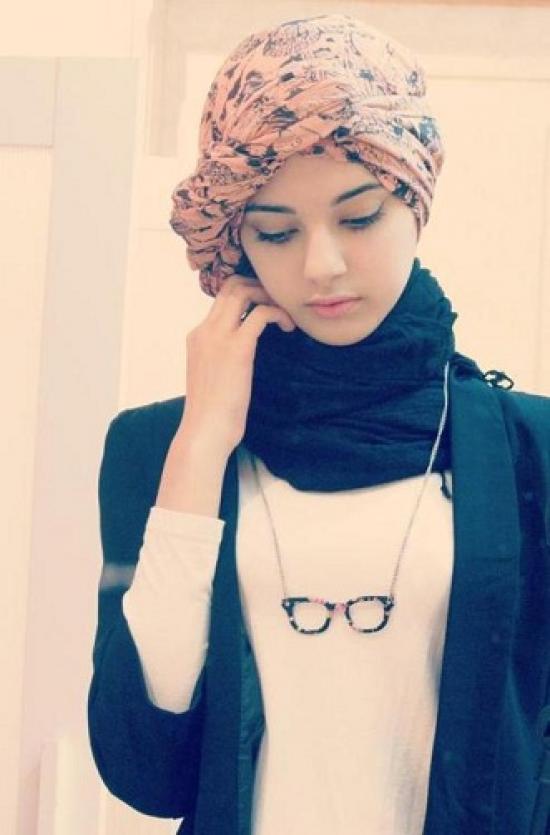 Embroidery Hijab
The hijab design style is an iconic look where the top part of the hijab is given brilliant embroidery work using golden thread. The hijab is made keeping the silk gown to give it a perfect match without falling on the chest area. It covers the head and the neck as it cascades on the backside. This hijab is great for wedding occasions.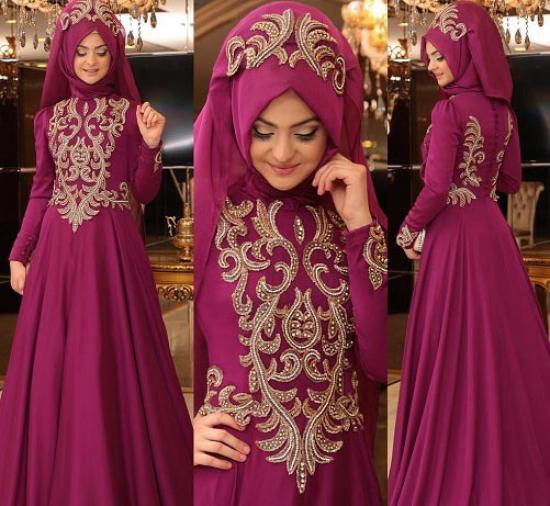 Golden Bordered Hijab
A fantastic choice for weddings or similar functions, this golden bordered hijab offers you a simplified yet stylish look to the wearer. It covers the head and neck while giving a triangular look on the chest side thus forming an "L" shaped pattern.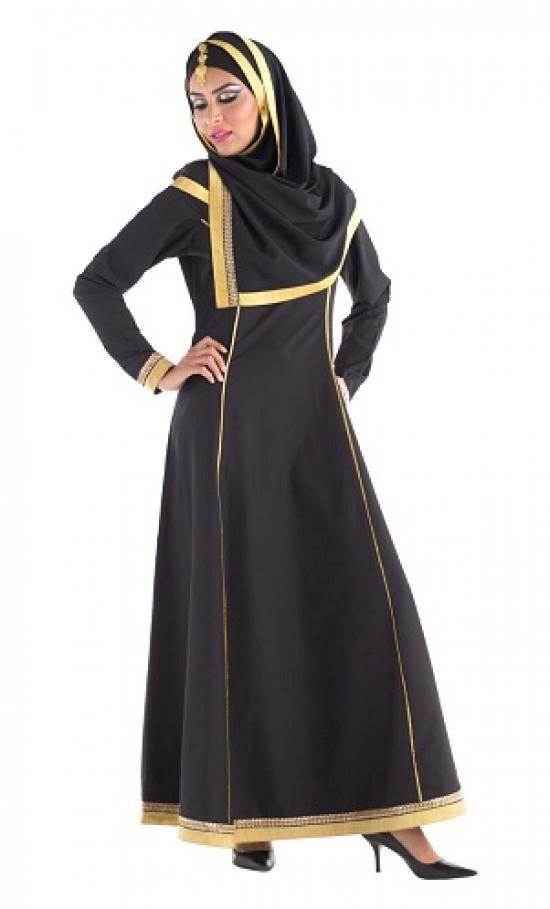 Panjang Hijab Styles
A cone-like design, these Panjang hijab designs are a modified look of the simple hijab. The step-by-step process shows how the hijab is given curves on the chest to form a cone-like design. The hijab falls a bit loose over the head and the face area. Available in cotton or silk fabrics, these hijabs come in printed designs.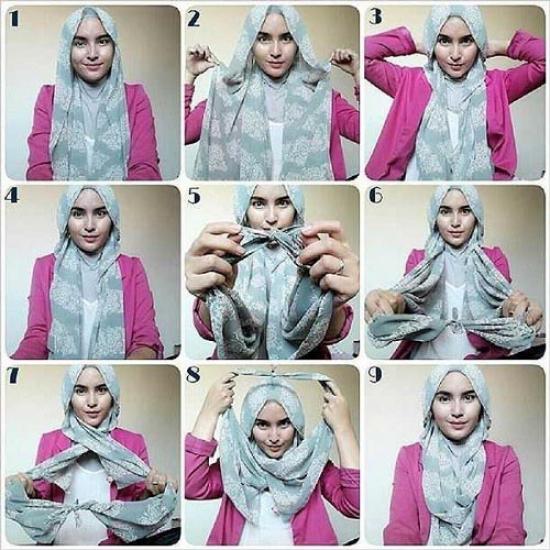 Gambar Hijab
A simple hijab, this Gambar hijab gives a wavy look from the head to the chest area. Made using smooth silk fabric, it features a black border that covers the chest and the shoulders. Below the hijab, a different colour band is used that should be worn for a firm outlook of the hijab.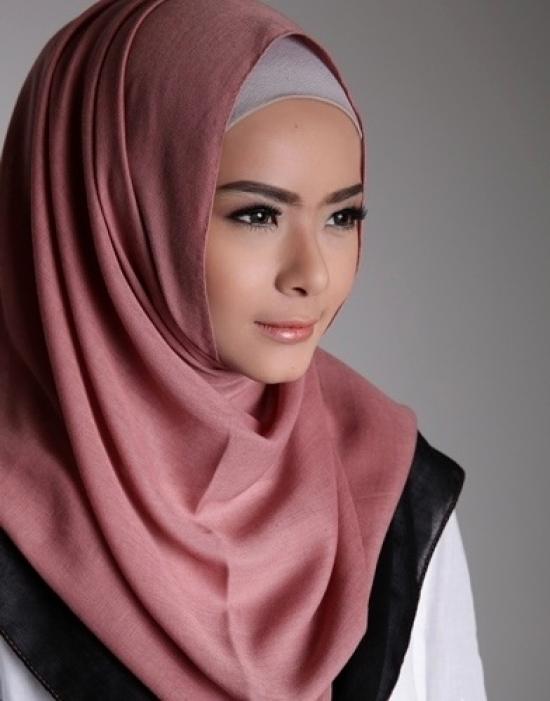 Mod Hijab for Kids
Checkout this new hijab for kids that gives a loose hold over the forehead thanks to the cap-like design. The hijab is embellished with white pearls that give it a crown-like look. Made using chiffon material, it is a ready-to-wear hijab.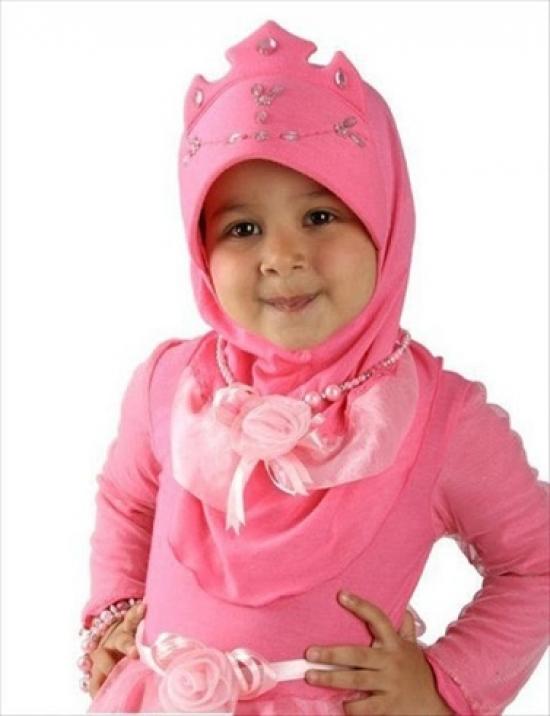 Thus, ends the types of hijab styles in 2020 that is sure to set you rocking in style.